Yasalam! It's the
Abu Dhabi Grand Prix
. And it's been a long time coming. And I aint talking about the grand prix. I'm talking about Abu Dhabi's grand entrance to the world stage. This is the biggest event to hit Abu Dhabi and the world is watching. It's not about oil, it's not about Manchester City - it's about Abu Dhabi cementing its place on the map. Hello World, yani.
Abu Dhabi is definitely reving up the wow or yasalam factor as the first Abu Dhabi Grand Prix takes place this weekend. The local and expat community in Abu Dhabi are excited and proud to finally have the honour of holding one of the most prestgious sporting events in history on their soil (or sand!) But many, far away from the desert are opposed to the idea that such a historical sporting event can be staged for a few million dollars in a country simply because they can afford it.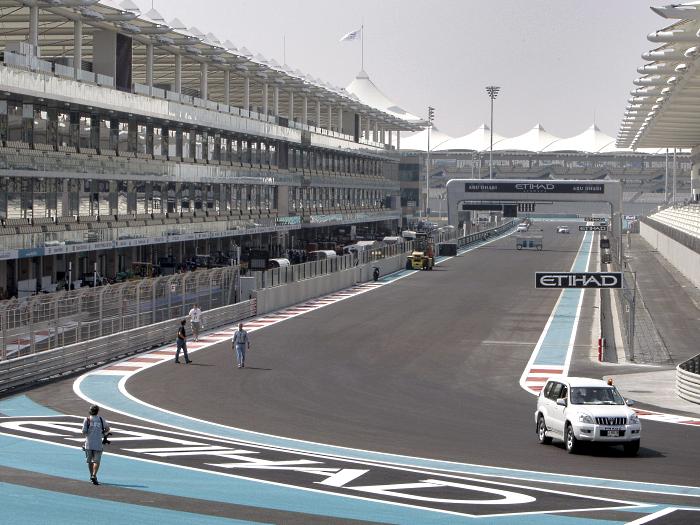 Since talks about the potential demise of Britain hosting the grand prix for 2010, fans of motorsport are becoming more and more critical of 'new' host cities and their ability to build glittering grand prix circuits on a smaller capacity but charge extortionate seat prices.
Abu Dhabi, the latest new track on the block, is built on an artificial island – Yas Island, dedicated to the Yas Marina Circuit. Its is planned that aside from hosting the Grand Prix every year till 2016, the island will be utilised as a full on entertainment hub, hosting concerts and visitors will choose to stay on Yas Island as an alternative to Abu Dhabi city with its many five star hotels including the flagship Yas Hotel. For leisure means, a Ferrari theme park will open in 2010 and a Warner Bros theme park to open thereafter. In true emirates style, a spectacular mall is in the making along with luxury residences.
This may all sound exciting but why is it that only 50,000 seats were built for the race track? In the past, races have pulled in crowds in the 6 figure mark, however the trend now seems to be flashy purpose built tracks with smaller availability of seats and high ticket prices. Many argue that this is the game plan of Formula One's commercial rights holder – Bernie Ecclestone, who seems to only care on how much he can make charging promoters on running a race. Obviously, high ticket prices will deter many genuine race fans from attending. However the Abu Dhabi race was sold out weeks ago, but it raises a question as to what type of crowd it has pulled in, with tickets being sold from USD$400 to USD$750 and some tickets even charging USD$1000, its not exactly affordable. But having a seat is the place to be seen do business rather then keeping the eyes on the track. And, holding a ticket has the added advantage of allowing access to the exclusive Yasalam After- Race concert with performances over the weekend from Beyonce, Jamiroquai and Aerosmith. Mhmm, seem justifiable? Probably not, if you're just interested in watching the Grand Prix, but the Abu Dhabi Grand Prix is not just going to showcase a race, it's the whole enchalada or everything and more.
The organisers want to keep people entertained and include the entire family. That is what Abu Dhabi is all about and probably also that this is a fantastic way of once again putting Abu Dhabi in the spotlight. Who cares that this image booster has cost a gazillion dollars. This is a beauty parade. The citizens get a new island to spend their leisure time on, holiday makers to Abu Dhabi have somewhere new to visit (and more hotel rooms!) And Abu Dhabi is on the modern sporting map – now that's not a bad result?
Does it matter that the contest is over? No. Does it matter that next year Abu Dhabi won't be the last circuit of the contest? No. Does it really matter that this is the first day to night grand prix. Not really.
What matter is today is that Abu Dhabi has been borne again. Hello Abu Dhabi.
2009 FORMULA 1 ETIHAD AIRWAYS ABU DHABI GRAND PRIX
Yas Marina
Abu Dhabi F1 track - virtual tour news